Feature Request

Hello!
We have Connectwise Control deployed out to all of our endpoints, and on the Mac side of things, we are upgrading to macOS Sonoma. Our users have begun seeing menubar notifications stating that 'Connectwise Control is capturing your screen', despite there being no active session. This is a new macOS Sonoma functionality, and this is happening because the Connectwise Agent captures a 'Guest Preview' periodically, which prompts this notification to the end-user.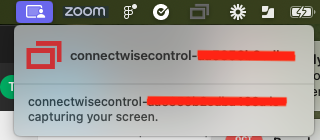 Many of our users work with confidential information, so them seeing such a notification is becoming concerning for them. I wanted to see what options we have to disable this 'Guest Preview' functionality, as we do not need the guest preview functionality.
Currently in the Connectwise admin settings, I only see the ability to reduce the quality of the snapshot taken, but no means to disable it altogether. The end goal here is to disable this functional entirely so that our users do not receive this notification in their menubar.
Please let me know if there's anything we can do in the meantime to prevent this notification to end-users. 
Thanks!
Robert